Product Description
Model NO.: DW Operation Pressure: Atmospheric Dryer Appearance of Dried Sample: Pastes Type of Flow: Parallel Flow Sprayer: Air-Flowing Type Be Specialized in: Foodstuff Industry Specification: DW1.2-8,DW-1.2-10,DW1.6-8,DW-1.6-10,DW-2-8,DW-2-10 HS Code: 8419399090 Structure: Air Flow Drier Drying Medium: Air Movement Way: Spraying Type of Atomization: Hot Air Circulating Certificate: Is09001&14001 Trademark: YIBU Origin: China Evaporate vegetable Mesh-Belt Drier(DW mesh
belt dryer
for  flesh vegetable)
This machine is a continuous penetrating flow
Drying equipment
applied for drying pieces strip and particles state materials with good ventilation. The machine is suitable for the materials such as dewatering vegetable, herbal medicine of traditional Chinese medicine and others, for which the water contents are high and high drying temperature is not allowed. The machine owns the advantages, of fast drying speed, high evaporation capacity and good product quality. The de-watered & filtered cake state paste material should be made into particles or strips before drying process.
The materials are uniformly distributed on the mesh-belt by the material feeder. The mesh-belt generally adopts 12-60 mesh stainless steel mesh and it is drawn by a transmission device and move inside the dryer . The dryer is composed of several sections. For each section, the hot air is circulated separately. Part of exhausted gas is exhausted by a special moisture exhaust blower. The waste gas is controlled by an adjustment valve. The hot air passes through the mesh-belt covered with bring water material away. The mesh-belt moves slowly, running speed can be freely adjusted according to the material property. The final products after the drying process will fall into the material collector continuously. The top and low circulation units can be freely equipped according to the user's requirements. The number of section might be selected according to the production demands.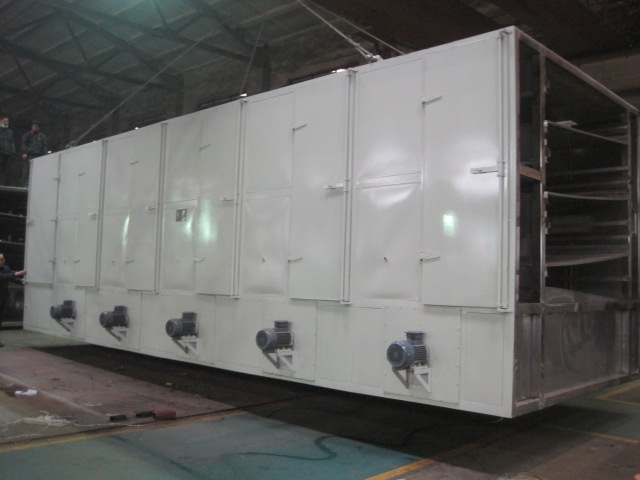 De-watering vegetable, particle feed, gourmet powder, shredded coconut stuffing, organic color, compound rubber, acral fibre, medicine product, medicine material, small wooden product, plastic product, aging and solidification for the electronic component and device.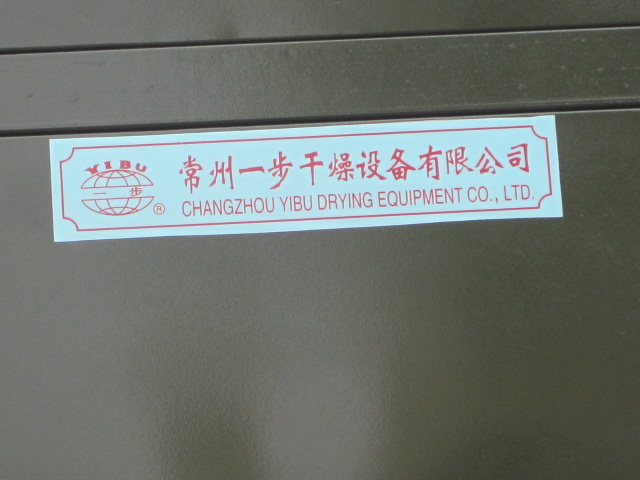 specDW-1.2-8DW-1.2-10DW-1.6-8DW-1.6-10DW-2-8DW-2-10 unit number4646 46 belt Width
m1.21.21.61.622 drying section Length
m810810810 Thickness of the material
mm10-80 Temperature 60-130 steam Pressure Mpa0.2-0.8 steam Consumption Kgsteam/KgH2O2.2-2.5 drying strength KgH2O/h6-20kg/m2.h total power of blower Kw3.34.46.68.81216 total power of equipment KW4.055.157.359.5513.117.1
  Specialized machine for Chinese medicine
unitthree units series specialized machine for vegetablefive layers specialized machine for vegetable(Frame type) modelDWP-2-10-3DWF-2-10-3DW5-3-12 effective belt widthm223 effective belt lengthm/unit101012 tandemquantity33 layers5 vegetable capacitykg/h6007202000 evaporate strengthkg/h400-510480-6401440-1800 consumption of steamKgsteam/KgH2O2.2-2.52.2-2.52.2-2.4 heat radiation aream2 90014402600 total power of the machinekw7052150 overall sizem33.2×2.58×2.833.2×2.27×2.8515.3×4.3×8.5 heat source typesteam, theermal conductivity oil, hot air furnace, electric   Specialized machine for feed (frame type) Specialized machine for feed (frame type) modelunitDWZ-3×12 effective belt widthm3 effective belt lengthm/unit12 using temperature 80-130 pressure of steamMpa0.4-0.8 drying timemin35-50 thickness of materialcm5-8 drying strengthkg/h6-20 consumption of steamKgsteam/KgH2O2-2.4 total power of the machinekw76 overall sizem15.1×4.3×3.4
      Wang Wang China Holdings Limited Hefei Branch Zhuzhou Qianjing Pharmaceutical Co., Ltd. Changsha Jiuzhitang Pharmaceutical Co., Ltd. Qingdao Pluodun Eslgma Blo-Tech Co., Ltd. Top Chef Food Technologies Co., Ltd. Fushoutang Pharmaceutical Co., Ltd. Bozhoushi Zhongxin Pharmaceutical Co., Ltd. Wuhan Fuxing Biological Pharmacy Co., Ltd. Jilin Yiren Feed Co., Ltd. Export to Indonesia, Tailand, Ukraine and so on. Contact us if you need more details on Evaporate Vegetable. We are ready to answer your questions on packaging, logistics, certification or any other aspects about Evaporate Vegetable、Evaporate Vegetable. If these products fail to match your need, please contact us and we would like to provide relevant information.
Product Categories : Drying equipment